Frequently Asked Questions
Questions on Enrollment
How do I enroll for training at WDTKA?
---
Click here to enroll for training now. Enrolling for training is easy. First, you must decide when and for how long you want to come to train at WDTKA. Second, see what type of room you would prefer (with or without AC and private bathroom). Then, you only have to communicate this to the office staff through the link above or by getting in touch with the school at wudang.wushu.info@gmail.com. If enrolling for classes during the peak training season(June - August), you may be asked to send a deposit in order to reserve you space at the academy. This can be paid by wire transfer.
---
How early should I register for classes?
---
To ensure that enough time is available to apply for your Chinese visa, make travel arrangements, and register for classes, we encourage students to begin enrollment at least one more before their intended arrival, two months for training during the summer months. Although, it is always best to get started as soon as possible.
---
What is the best time of the year to sign up for training?
---
While each seasons has its own benefits of training, you should know that training changes as per the season (click here). Typically, summer is much more busy and is more comfortable for training. The colder, and slower, months of the year are December - February. This means colder temperatures but also smaller class size and more time with your instructor. The best times are really the months in between when temperatures are not too extreme and student population is not too high, as in April - June and September - November.
---
What is the difference between a "Single Room" and a "Simple Room"?
---
While both rooms are private, individual rooms, a Single Room also has a private bathroom. A Simple Room does not. The Single Room has its own western toilet, sink, and personal shower. For the Simple Rooms, there are shared facilities with sinks, showers, and Chinese toilets. The rooms themselves have the same furnishings, bed, sheets, desk, chair, and warddrobe.
---
Does the school offer discounts or work programs to save on tuition?
---
To be fair to all of our students, we are unable to offer discounts on our regular tuition rates outside of our regular long term student discount. We are also unable to offer work programs as this would violate Chinese Visa regulation. If a student is in China on a business visa, or any other type, they are welcome to join us for training. However, we are only able to assist with Tourist and occassionally Student visa applications.
---
I registered for classes but now my plans have changed. What do I do?
---
If you are just changing your plans, please let the office know by clicking here. There is no fee incurred by changing the dates of your travel and study. The money that you may have transferred already is your credit and can be used for training at any date. Even if you are within Wudang and an emergency occurs, you will not loose your remaining tuition. Simply let the office know as soon as possible and we can make sure to creidt your account until the next time that you come to WDTKA.
---
What is the policy on refunds for tuition?
---
WDTKA has a policy of no refunds or returns on tuition paid. Once paid, however, the tuition can be redeemed at any time. In special circumstances and emergencies however, this rule can be lifted. Although all transfer fees will be paid from the remaining balance. If you need assistance, please get in touch by clicking here.
---
---
Questions on Training
Kako poteka branje dokumentov z aplikacijo SnapGuest?
---
V aplikaciji SnapGuest pritisnemo logo v spodnjem desnem kotu. Na zaslonu se prikaže kamera. V prikazani okvir zajamemo kodni zapis na potnem listu ali osebni izkaznici in počakamo, da se gostovi podatki izpišejo na telefonu. Preverimo podatke ter pritisnemo na oblaček s puščico. Podatki gostov bodo posredovani v eTurizem z naslednjo sinhronizacijo (ob polni uri, 15 čez, 30 čez ter 15 do vsake ure).
---
Testiranje branja dokumentov
---
Testiranje branja dokumentov
---
Katere dokumente je možno prebrati z aplikacijo SnapGuest?
---
Aplikacija optično bere kodne zapise na potnih listih ter osebnih izkaznicah. Kodni zapisi so mednarodni, zato veljajo za dokumente vseh držav. Kadar gostovi dokumenti ne vsebujejo kodnega zapisa (vozniška dovoljenja, stare italijanske in grške osebne izkaznice), vnos gostovih podatkov v aplikacijo izvedete ročno. Potni list: Zajemite MRZ kodo. Pod kamero nastavite sprednji del potnega lista.
Osebna izkaznica: Pri osebnih izkaznicah je MRZ koda ponavadi na ZADNJEM DELU.
---
Kako poteka branje dokumentov z aplikacijo SnapGuest?
---
V aplikaciji SnapGuest pritisnemo logo v spodnjem desnem kotu. Na zaslonu se prikaže kamera. V prikazani okvir zajamemo kodni zapis na potnem listu ali osebni izkaznici in počakamo, da se gostovi podatki izpišejo na telefonu. Preverimo podatke ter pritisnemo na oblaček s puščico. Podatki gostov bodo posredovani v eTurizem z naslednjo sinhronizacijo (ob polni uri, 15 čez, 30 čez ter 15 do vsake ure).
---
Testiranje branja dokumentov
---
Testiranje branja dokumentov
---
Imate težave pri skeniranju dokumentov?
---
Aplikacija Snapguest podatke z gostovega dokumenta prebere v eni sekundi. Kadar temu ni tako, poskusite preveriti sledeče: 1. PREVERITE INTERNETNO POVEZAVO: Velikokrat imamo na mobilnem telefonu sočasno vključen prenos mobilnih podatkov ter WIFI. Skeniranje dokumentov poskusite opraviti tako, da enega izmed načinov internetne povezave izključite, bodisi WIFI, bodisi mobilne podatke. Uporabite tisti način, pri katerem je vaša internetna povezava bolj kakovostna. 2. PREVERITE ALI SKENIRATE PRAVO STRAN DOKUMENTA: Za uspešno branje dokumenta je potrebno v kamero telefona ujeti del dokumenta, na katerem se nahaja MRZ koda (puščice, črke, številke). Na slovenski osebni izkaznici se ta nahaja v treh vrsticah na hrbtni strani, na potnem listu pa dvovrstično kodo lahko najdete na strani, kjer je slika. V zaslon je potrebno ujeti celotni kodni zapis. 3. PREVERITE ALI DOKUMENT IN TELEFON DRŽITE VZPOREDNO POD ENAKIM KOTOM: Telefon naj bo od dokumenta oddaljen približno 15-20 centimetrov. Zelo pomembno je, da + dokument in telefon držite pod enakim kotom. Če aplikacija podatkov z dokumenta ne prebere takoj, lahko poskusite s počasim približevanjem ter oddaljevanjem telefona od gostovega dokumenta. 4. PREVERITE SVETLOBO, POD KATERO SKENIRATE DOKUMENT: Kadar dokument skenirate pri slabši dnevni svetlobi, pred skeniranjem v desnem zgornjem kotu kamere prižgite svetilko. Morebitno bleščanje sonca ali stropne luči lahko izničite tako, da dokument nagnete nekaj stopinj proti sebi. V kolikor vam nasveti ne pomagajo, nas kontaktirajte da skupaj odkrijemo razlog za težave.
---
---
Questions on Travel
What is the best way to travel to Wudang?
---
While there are many ways to get to Wudang depending on how you enter China, one of the most simple and most direct is to fly into China to Beijing and get either a connecting flight or train to Wudangshan. (Airport Code: WDS, or Wudangshan Train Station) Details Here
---
What do I need to travel to Wudang?
---
Besides regular travel arrangements, one of the most important things you will need is a China Visa. You will get this by applying for a Chinese visa (most likely a Tourist Visa, but occasionally a Student Visa works as well) at your local Chinese embassy or Visa Services Center. An invitation letter can help with this process and we are happy to prepare one for you once you register for classes. Otherwise, the best thing to have is a good plan. Travel is a simple enough matter in modern society, but it is a good idea to be prepared for things that may arise during your trip. Have a good idea of where you are going, how to get there, keep your personal items safe, and prepare for ways to communicate while traveling. This could be an international phone or even just a translation app or handbook to keep with you for emergencies. To register, click here. For more information, click here.
---
How much money will I need while in Wudang?
---
After making the necessary preparations for tuition, travel, and any tourism you want to partake in during your visit, it is important to have a little extra money available. This could be for emergencies, or even just shopping around town for clothing, souvenirs, and the like. Students staying for one month or more will find that a simple budget will be about 100 USD (600 RMB) per month. Students staying for a shorter period may want to budget a little more as they are more prone to spend more money in a short amount of time if they want to buy things or visit places in the local area. Also remember that if you are staying long enough that you have to get a visa extension, you should prepare accordingly and have the funds ready for such.
---
What is the weather like? How is the air quality?
---
Weather is generally pretty mild in Wudang. It can a more damp environment as the season changes tend to have a fair amount of rain. Winters can drop to just below 0 degress Celcius while summers tend to be around 35 degress Celcius. Air pollution is not bad in Wudang as it is not a major city in China. There are a few days in the winter where the dry wind will bring in a slightly higher AQI index. Although this is not a usual occurence and the air quality where training takes place is fine.
---
What is the elevation?
---
The elevation of Wudangshan at the Golden Summit is 1612 meters (5,289 feet) above sea level and the base of the mountain range, where training takes place, is 200 meters (656 feet) above sea level.
---
Can I extend my visa if I choose to stay longer?
---
Yes. Visa extension is a simple process that we can assist you with once you are at the school if you plan on staying past your orginal visa expiration date. A few things to keep in mind is that the visa extension will most likely be equal in cost to your initial visa application and it can only be extended up until one year from your original entry date into China. This may be done in 3 - 6 month increments which means you may have to apply for multiple visa if you plan on staying for one year. For example, if you entered on January 1st with a 3 month visa and planned on staying for a year and a half you would need to apply for visa extensions on April 1st, July 1st, October 1st,and then leave the country before December 31st of the same year. When you leave the country, you will apply for a new visa which you once again extend until your time finishes in Wudang or one year comes. Most likely you can get 6 month visa extension however, so you may only have to extend your visa once or twice as opposed to once every three months. Either way it is best to be prepared.
---
Do I need to be able to speak Chinese?
---
While traveling in any country it is definitely a huge advantage to be able to speak the language. However, it is definitely not necessary. Our office staff and Master Yuan, speak English, and the coaches are able to explain enough in rudimentary English (with the exception of our western coach who does speak English as his first language).
---
What is the safest way to exchange, send, or carry money?
---
For tuition, this best way to send tuition payments is by wire transfer through your bank. You may also be able to pay in person. For more info, click here. For personal use, while these methods may be safer, they may not work for you because they require a Chinese bank account. What you can do it simply use an ATM card in the local banks to withdraw funds when you need them. There is also a Western Union, but these methods are not very convenient because the closest one is in the next city. There is a 2500 RMB daily limit in the local ATMs and they will automatically exchange the withdrawl balance in your native currency while you receive RMB. This seems to be the easiest way as long as your clarify with your card holder the fees and details pertaining to your account.
---
Do I need any vaccinations?
---
No, you do not need any vaccinations to travel to Wudang.
---
Is it safe to travel alone in China?
---
China is very western friendly. Any time you travel you want to be conscientious of where you are and keep you valuables on your person and safe, but it is not a dangerous place as most areas are well traveled and clear. Chinese people are friendly, but you should still be aware and do not take people at their word just in case you do find yourself in a scam. Like buying an expensive dinner for someone you don't know, or paying up front for anything. Although this is easily avoided if you stick to your plan, make sure your taxis are using the meter, and regular travel details are arranged through professional mediums.
---
What other supplies might I need to bring?
---
Most everything that you will need is available for purchase here locally in Wudang. Toiletries, clothing, food, souvenirs, and more are all easy to find here at the local markets. A few good things to bring may be: A good towel Any converters if needed for electronics (most ungrounded devices will work fine, but it is a good idea to be prepared) Shoes (if your shoe size is over 45 Euro, it may be difficult to find training footwear here) Sunscreen (we spend a lot of training outdoors and if this is an issue for you is a good idea to bring with you)
---
How do I apply for a Chinese Visa?
---
You will need to apply at your local Chinese Embassy or Visa Services Center. They will tell you the things that you need for the application process. You should allow time to process this well before your planned trip to China. The process iteself only takes 2-3 days unless otherwise said by your local embassy or if processed through mail. If you apply within the month before your travel dates, you should be fine. A few basic things that you may need are passport photos, application form, passport (with at least 6 months validity), invitation letter, and any tickets that you may have already purchased. If you need an invitation letter, we can prepare one for you once you register for training and send us a copy of you passport. You can begin the process by clicking here. Make sure to check with you embassy or service center to get all of the required paperwork prepared.
---
What type of Chinese Visa Do I need?
---
---
---
Other Questions
Ali aplikacja deluje brez internetne povezave?
---
Za delovanje aplikacije in pošiljanje prijav na AJPES je potrebno imeti vzpostavljeno internetno povezavo (WiFi ali prenos mobilnih podatkov). V tem primeru se vam v aplikaciji izpiše obvestilo "ni povezave".
---
Ali se lahko aplikacijo uporablja na več napravah?
---
SnapGuest lahko uporabljate na več napravah. Aplikacijo naložite na več naprav, pomembno je le, da se vedno vpišete z istim uporabniškim imenom in geslom. Na ta način lahko do vseh podatkov dostopate z več različnih naprav.
---
Kako poteka registracija v mobilno aplikacijo SnapGuest?
---
Najprej si na GooglePlay ali AppStore naložite aplikacijo SnapGuest ter sledite postopku, prikazanem na videu.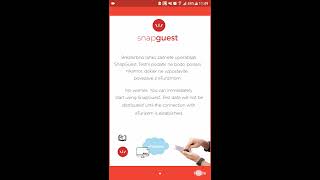 ---
Kako posodobim aplikacijo?
---
Kako posodobim aplikacijo? Če ima vaša mobilna naprava nastavljene avtomatske posodobitve, bo aplikacija avtomatsko posodobljena. V kolikor nimate nastavljenih avtomatskih posodobitev, naredite sledeče: Android naprave: pojdite v Trgovino Play in v iskalnik vpišite SnapGuest. Kot rezultat boste dobili SnapGuest-eTurizem. Izberite to možnost POSODOBI. iOS naprave: V App Store-u izberite UPDATES, poiščite SnapGuest in pritisnite UPDATE.
---
Pozabil sem geslo. Kako dobim novega?
---
V kolikor ste pozabili geslo, se enostavno odjavite iz aplikacije. V meniju izberite možnost VAŠ RAČUN in pritisnite ODJAVA. Na prijavni strani v aplikacijo izberite možnost POZABLJENO GESLO, vnesite vaš elektronski naslov ali uporabniško ime in pritisnite POŠLJI NOVO GESLO. Na vaš elektronski naslov boste prejeli povezavo za ponastavitev gesla. Nato se v aplikacijo prijavite z vašim uporabniškim imenom in novim geslom.
---
Kako preprečim dostop do SnapGuest računa osebi, ki ni več zaposlena pri nas?
---
V vašem SnapGuest računu zamenjajte geslo za dostop. To naredite tako, da v meniju izberite možnost VAŠ RAČUN ter ZAMENJAJ GESLO.
---
Celotna navodila za uporabo in aktivacijo osnovnega paketa.
---
Navodila z vsemi napotki za uporabo osnovnega paketa so na voljo tukaj.
---
---